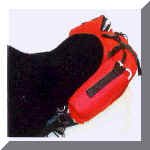 Cantle Saddle Bag
This cantle bag works on most Endurance saddles as well as Australian and Western.. Has extra long straps to connect to rigging or "D"s. The pocket is from the lower end of one water bottle holder, up over the entire back of the cantle area down to the bottom of the other bottle holder.
The side pockets on each side of the saddle hold large water bottles that are secured with Velcro straps over the top of bottle. Once the bag is loaded with all essential items the two straps are crossed over one another to minimize the bag from bouncing during a canter or trot.
Made from 1000 denier Cordura for maximum waterproofing.
Reviews